2021
Less Plastics for Lent – 2019
A Message from Canon Rachel Mash (Provincial Environmental Desk Co-ordinator):
Greetings in the name of our Lord Jesus
We have traditionally regarded sin as being merely what people do to other people. Yet, for human beings to destroy the biological diversity in God's creation; for human beings to degrade the integrity of the earth by contributing to climate change, by stripping the earth of its natural forests or destroying its wetlands; for human beings to contaminate the earth's waters, land and air – all of these are sins." Ecumenical Patriarch Bartholomew
Lent is a time when we prepare our hearts and lives before celebrating the wonder of Easter. It is a time to break free from bad habits that are hurting God, our neighbour and God's Creation.
On Ash Wednesday when we are signed with the cross, the priest will say
"Turn away from sin and believe the good news"
This Lent we are challenged to turn from the sin of damaging God's planet and hurting our neighbours by our over use of single use (throwaway) plastic.
By 2050 there will be more plastic in the oceans than fish. Plastic is already entering into our drinking water. Plastic clogs our rivers, leaches into our soil and is one of the greatest challenges the planet faces.
The good news is that there are alternatives. We can break our dependency on throwaway plastic. This Lent, begin a journey to explore other ways of living , to limit your damage to the Earth and to inspire others.
Here is a calender of actions you can take during Lent to reduce your plastic use
http://www.greenanglicans.org/wp-content/uploads/2019/02/Final-Calender.pdf
The Diocese of Capetown held a Conference on the land and a team put together a Lenten Study programme, edited by Rev Shaun Cozett. The materials can be found here: http://www.greenanglicans.org/wp-content/uploads/2019/02/2019-Lent-Program.pdf
May God bless you
Canon Rachel Mash
2018 – Lenten Fast for Creation
We are delighted to share with you the Carbon Fast for Lent for 2018. During the  40 days of lent we have the opportunity to reflect on our lives and the impact.

Click here for the Lenten Fast
Water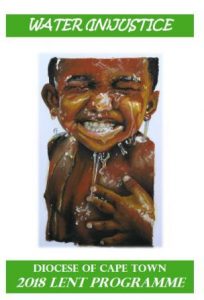 Lent 2018_Water (In)Justice Liturgical Resource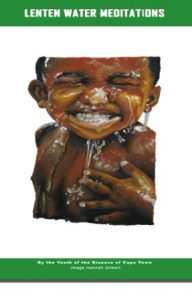 Lenten 2018_Water Meditations