Climate change to be a central part of conversations at the Lambeth Conference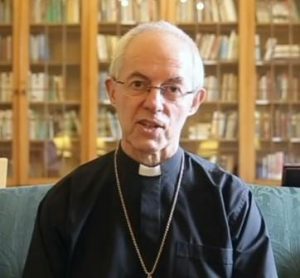 In a video for a recent Anglican environmental conference, (Anglican Consultative Council in Hong Kong, March 2019 – AAC17), the Archbishop of Canterbury gave a compelling message about the importance of the Church responding to climate change. (Click on picture to take you to the video)
---
A call for Greening ALL Parishes!
Download the Church Check-up list to see how your Parish measures up ….
---
Go Green & Eco for God!
So what! – Why?
…. Because God is awesome! And he has given us this precious gift – Creation!
We are totally dependent on Creation every single day of our lives! – by the very air that we breathe; the food that we eat and water that we drink. All the natural resources for everything – yes even down to your cell phone come from God's gift of Creation!
We need to take time to say "Thank you, God!" We need to take time to fall in love with his precious gift of Creation! We need to take time to care for his precious gift of Creation!
…. That's why! ….
Ok – so how can our Parish do this?
Easy step – are environmental hymns and prayers a regular feature of parish worship?
Do you hold environmentally-related liturgical services during the year? What about celebrating World Environmental Day in June and Season of Creation in September (well, at least one Service)
Would publishing tips for green living in the pew leaflet and other communications to parishioners be beneficial to the parish?
Re-connect!!! When last did you touch the soil, a flower, a leaf? – really touch it, look at it, admire it? Have you considered holding regular outdoor events: Eucharist's, hikes, birding outings, camps etc. to get closer to nature? Lots of fun for everyone!
Would educational sessions on the environment for parishioners and local community, e.g. Eco-breakfast talks or workshops appeal?
What about you considering a waste management and recycling system on parish premises?
Have you considered carrying out a local project involving parishioners and the community e.g. a clean-up of a local river or park?
Would the Sunday School and Youth group be interested in and learn from such activities? – super resource material is available – such as "Ryan the Rhino: a Story of Creation", "Season of Creation for Kids" & Care for Creation – Manual for Youth (find them on the Sunday School/Youth Page)

Should you consider sustainable practices on the parish properties, e.g. solar energy, water harvesting, indigenous planting, green cleaning products, minimise paper usage, re-usable crockery etc.
Should you be promoting the Diocesan Environmental Policy to parishioners?
Would it be worthwhile to perform an environmental audit of the Parish?
Do we have to do everything?
Not all at once! …. Baby steps!! & JAEI is there to help you!
If your answer to any of these questions is YES! – Please speak to your Rector or Archdeacon and they will put you in touch with JAEI (The Johannesburg Anglican Eco-spiritual Initiative).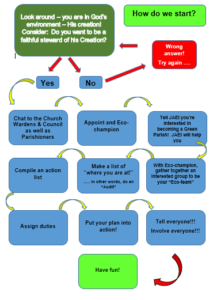 Download Parish Greening – Go Green for God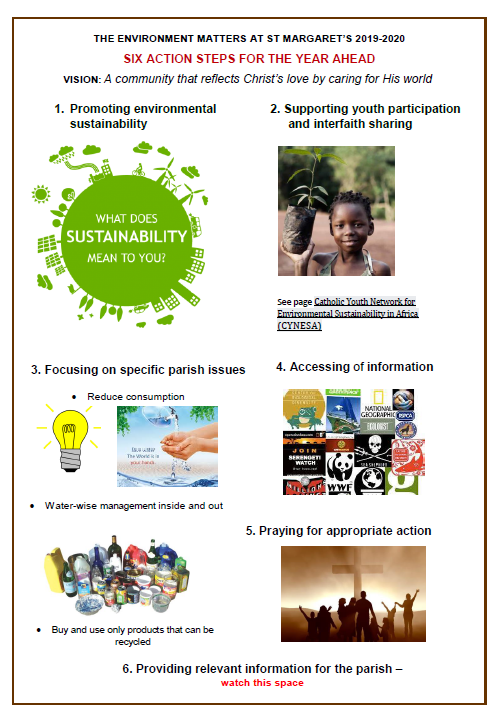 Here is a great poster for what can be done – SIX ACTION STEPS FOR THE YEAR AHEAD– with grateful acknowledgement to St Margaret's Parish, Fish Hoek