Recycling at St Michael's Parish, Weltevreden Park.
ANGLICAN PARISH OF WELTEVREDEN PARK  Waste Management System

Effective waste disposal is one of South Africa's most critical challenges.
The waste that we generate in cities can have a detrimental effect on the health of people and the environment.
Our waste is taken to a landfill site to be dumped.  However, this is often the source of air & water pollution as well as disease and pest breeding grounds. Landfill sites have a relatively short lifespan and the situation of new sites is often a major contributor to habitat destruction as well.  Reducing the amount of waste being taken to these sites is of paramount importance and RECYLING of much of the waste that each person produces can be an important contributor to this.
St Michael and All Angels Parish, Weltevreden Park, is proud to be an Eco-congregation.
As an Eco-congregation, it is our responsibility to God that we respect and care for Creation.
Part of this care is to limit the waste that we produce, both at the Church and our homes as well.
Can we RE-USE some of the waste items? The answer is YES!
Can we RECYCLE some of the waste items? The answer is YES!
 HOW?
St Michaels & All Angels Parish have instituted a responsible RECYCLING / WASTE MANAGEMENT SYSTEM.
This will require some effort in sorting waste into certain categories at source and by disposing of it in relevant coloured waste bins which will be found in the courtyard between the two halls.
All containers need to be rinsed before recycling in order to avoid smells and bacteria being produced.
YELLOW Bin – PLASTICS
Clean polystyrene containers
Plastic bags
Plastic containers (eg. Margarine & yoghurt tubs)
Bubble wrap
Sheet plastic
Plastic milk bottles
BLUE Bin – CANS
Drinks cans (cold drink/beer etc)
Food cans (washed out)
Aerosol cans
GREEN Bin – PAPER
Cardboard (Boxes to be broken down)
Old school books
Magazines (can be glossy)
Newspaper
Print room paper & shredding
flyers
GREY Bin – GLASS
Wine/spirit bottles
Juice bottles
Jars
Spice bottles
RED Bin – Tetrapak
TETRAPAK (Milk cartons, custard cartons, fruit juice cartons, etc.  Look for the Tetrapak logo at the bottom of the container.
"YES Recycling" will clear the bins fortnightly
Please note that these bins are to be used for recyclable items used on the Church premises only. 
Please consider initiating your own recycling effort if you have not yet done so.
 IN THE KITCHEN:  There are 3 waste bins in the kitchen.
Drawer 1    WET WASTE / COMPOST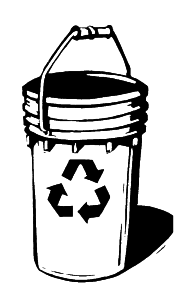 All food scraps and peelings as well as dead flowers must be placed in to the COMPOST bin in the kitchen.  (Dry flowers from arrangements can be left in a black plastic bag outside the kitchen door for removal to the compost heap by the Caretaker).
Drawer 2   GENERAL WASTE
All waste that does not fit into any of the recycling categories must be placed in the GENERAL WASTE bin for disposal for the weekly Municipal waste collection.
Drawer 3    RECYCLABLES
All recyclable items – plastic, tins; bottles, clean paper & Tetrapaks are to be placed in the RECYCLABLE bin.
 Please would all users of the kitchen put their waste items into the correct bin.
REDUCING our waste:
There are some simple ways we can do this.
When shopping, take your own eco-friendly "green" shopping bags when going to the supermarket.
Buy loose vegetables rather than pre-packed when possible and put into your material bag. This will reduce the amount of packaging to be dumped.
Use cardboard boxes to carry fruit and vegetables when buying from fresh produce stores.
When food comes in glass or plastic containers, consider reusing the container.  Perhaps a craft item or a storage item may come to mind. Perhaps a local school project may be collecting these empty items for further use so you could take your 'empties' there.  This would reduce the amount of glass or plastic being dumped.
Please think of other ways of reducing your waste and share your ideas with others.
RE-USING items.
Most small containers can be used for craft work or pantry storage.
Glass jars can be used for pickling fruit and vegetables.
Egg cartons can be used by most Pre- & Primary Schools for various projects.
Plastic bags can be used in knitting work and made into hats and mats!
Try using re-chargeable batteries as they can last for up to several hundred charging cycles.
Many Environmental websites will provide ideas on how to re-use items so have a good look at them.
A WORD ON  E-WASTE & TOXIC WASTE:

Batteries, CFL lights, electrical and electronic items contain toxic elements (e.g. Mercury) and it is illegal to dispose of these with general waste.  Various Stores have containers for safe disposal.