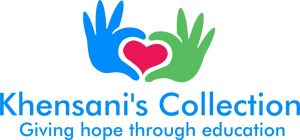 It is JAEI's privilege to introduce Khensani's Collection in Diepsloot who have been operational since 2016.
This Organisation does extraordinary education-focused work with the youngsters in the area, offering
Teen Mentorship
After School Lessons in maths and science
Entrepreneurship Program
Aptitude Assessments and Career Guidance
With the influx of students they have been receiving, their small classroom is bursting at the seams, so they intend to build a 180sqm classroom out of eco-bricks.
At the 2020 JAEI AGM it was unanimously decided that all the eco-bricks that come through the Johannesburg Diocese will now be ear-marked for Khensani's Collection.
www.khensaniscollection.org.za

Eco-brick launch !
Everyone is taught how to make an eco-brick for the new classroom!  a few down and only another 11980 to go!!
Eco-bricks have taken us by storm! …. literally!
So much so, that our Partners, ADVA Youth Skills Development are drowning in Eco-bricks! – too many for them to cope with at present, so sadly, we will have to curtail this initiative for the time being.
JAEI is presently trying to source another outlet and will post details as soon as we have them.  If anyone knows any organisation who are in need of these bricks, please contact us at JAEI. 
Thanks to everyone that has supported this initiative to this point.
---
(Do scroll down for all sorts of information, updates and developments in the Eco-brick initiative! …. )
Rubbish/garbage/trash/waste …. (whatever you want to call it!) …. is becoming a bigger and bigger problem for us and for the environment. As we continue to waste more and more, we use more natural resources and increase pollution in our world.  Plastic pollution (especially of the oceans) is foremost in our minds, but there is an awful lot more to the problem than just plastic.
…… and here is where the Eco-brick comes in!
What is an Eco-brick?
An Eco-brick is a plastic bottle densely packed with a variety of non-recyclable waste.
Eco-bricks are an exciting way that individuals and communities can reduce the amount of waste that lands up on landfills, and also the errant bits and pieces that land up in our drains, water-courses and ultimately the ocean.
Where did it start?
Various simultaneous pioneers have helped shape the global movement and refine the technology. Susana Heisse an environmental activist around Lake Atitlan in Guatemala in 2004. Susana was inspired by a woman who was building her house with plastic bottles filled with plastic trash; she immediately realized the potential of this building technique for solving a number of challenges faced by the local community. Alvaro Molina began on the island of Ometepe in 2003. The technique builds upon the bottle building techniques developed by German architect Andreas Froese (using sand-filled PET bottles) in South America in 2000. These Eco-Bricks are then used to build schools in South America in order to improve children's lives and give homeless people a permanent place to stay.
In 2010, in the Northern Philippines, Russell Maier and Irene Bakisan[3] developed a curriculum guide of simplified and recommended practices to help local schools integrate eco-bricks into their curriculum. Applying the ancestral ecological principles of the Igorots for building rice terraces, they integrated Cradle-to-cradle principles into Ecobrick methodology: ensuring that Eco-bricks can be reused at the end of the construction they are used in. Through the Department of Education, the guide distributed to 1700 schools in 2014.
The open source development of Ecobrick best practices and innovations that emerged from the Filipino movement, became the genesis for the Global Ecobrick Alliance in South Africa, Zambia, America, and most recently Indonesia. Movements in South Africa began in 2012 when American Joseph Stodgel brought the concept to the small town of Greyton throwing an annual Trash to Treasure festival.
(Acknowledgments – Wikipedia)
Early in 2018, the ADVA Youth Skills Development (based in Johannesburg) took on Eco-bricks as a community project and are busy building up a storm with their Eco-bricks.
JAEI has partnered with ADVA YSD in the making of the Eco-bricks.
ADVA Youth Skills Development
ADVA YSD upskills youth and young adults to create a ripple for change in their communities
| | |
| --- | --- |
|   |   |
| Alison Bentley-Griffiths and volunteers of ADVA | Skills training during and ADVA meeting |
How to make an Eco-brick
Use a 2 litre soft drink bottle bottle (Coke, Sprite, Ginger beer etc)
Pack the bottle tight, mix plastics as you go – paying special attention to a firmly filled base.  With only a single type of plastic (eg. polystyrene) the brick will bee too light.
Using a dowel stick, compact the plastics/filler around the inside of the bottle and ensure that the entire bottle (right to under the lid) is firm and dense.  You should be able to stand on the completed brick without it distorting in any way.
Weigh the brick – it should be a minimum of 450-500gms
You will be mind-blown as to just how much "junk" the "brick" takes!!! – just when you think it's full …. it's probably only half-way!
What can go into an Eco-brick?
Cling wrap
Low-density plastics & vege bags
Chip packets and sweet wrappers
Polystyrene
Bits of cable tie
Thread off-cuts and bits of fabric (left after sewing)
Aluminum foil (make sure it's rinsed clean)
Laminated paper
Cellophane
Wax paper
Dog/cat food bags
Photos/transparencies
Anything that can fit into the bottle that is not able to be recycled in the normal way
NB!!!  NO biodegradables or wet waste
High-density Plastic (PET [1] (other than the bottles used for Eco-bricks), HDPE [2] & LDPE [4]), paper, glass & tins (metal) should be recycled in the normal way.
____________________________________________________________
St Mike's build a bench!
St Michael & All Angels Parish in Weltevreden Park undertook to build an Eco-brick bench for the children of the Vuleka School which is on the property.
The site for the bench was chosen by some of the enthusiastic soccer-playing lads!
The St Mike's Eco-team joined ADVA YSD in the building of the bench on the morning of the 20 July.  By 1pm, an exhausted and cement covered bunch stood back to admire their handywork and then took part in a welcome lunch!
______________________________________________________
Some ADVA Eco-brick projects
| | |
| --- | --- |
|   |   |
| ADVA Children of Kingsway School making Eco-bricks | Stash of Eco-bricks |
|   |   |
| Building a bench at Kingsway School | Completed bench |
|   |   |
| Inside of the Nursery School stool | Nursery School stool |
Future plans of ADVA and their Eco-brick project
Lots of little stools! …. There are over 40 Nursery Schools/Creches in the area needing seating
Community/School benches
Raised food gardens
Noeleen's tried and tested hacks for making Eco-bricks!
Okay! Now that you have a whole lot of background … here are some of my personal hacks that I have found useful …
Invest in 2 lengths of dowel sticks of about 70-80cm long – one 1cm & the other 2cm thick. The 1cm rod is great for pushing waste into the bottle, and helping in distributing it around evenly, and the thicker one is great for the compacting of the waste.
When starting your brick, make sure that the base is well and truly full and packed REALLY tight! This is super important!
If you can't get your piece of plastic (or whatever) into the bottle, cut it up into smaller pieces. This is especially useful for pet food and some of the cereal bags.
Mix your plastics and other "junk" (your sweet wrappers, chip packets, tablet blister packs, bits of foil and whatever……. I do a lot of needlework using bits of felt and there are always bits of felt, fabric and cotton threads left that I also stuff into my bricks as well.)  This is really important, as only using one type of plastic (especially the polystyrene) will not give you the required density or weight.  Remember, each brick must weigh between 450 and 600 gms.
After each layer, really use a good deal of force to pack the waste in. You'll be absolutely mind-blown as to how much can actually fit into that bottle!  When you think you are nearly done … you're probably about halfway!  Using a good amount of force is really great for taking out any frustrations that you have and putting your frustrations to good use!!
When you absolutely can't get any more into your bottle – check that there are no "soft spots" – spaces where there's no filler and try and rectify. Weigh your brick and make sure that is more than 450g.  Now, stand on it – the "brick" should not distort in any way – it should be absolutely solid!  …. That is a good brick!
Paper isn't a good filler – a) because it can be recycled in other ways, and b) it's far too light.
A lot of people have asked where they can get the empty bottles if they don't normally drink fizzy drinks. A couple of ideas …..

Ask family, friends and work colleagues to save theirs for you
I know of someone who buys the empty bottles from Waste Pickers
Another friend does a lot of walking, and collects them from gutters etc
At St Mike's, Weltevreden Park – we have an "eco-brick" bin for completed bricks, and anyone who has spare empty bottles leave them in the bin for others to take – works a charm!
Websites:
ww.ecobricks.org
https://ecobrickexchange.org
1 November 2018:
We finally have enough bricks to make the vegetable garden at Ethembelethu creche in Muldersdrift – it will take between 80 -180 bricks – and we cannot start unless we have more than enough because we have to build in one go. We will visit this weekend to finalise the design and the size and hope to build within the week as our scout activities have wound down due to exams at all the schools. After we built the bench at Kingsway school (47 bricks) and in Zandspruit (which used 233 bricks) we had only 12 bricks left and we have had to wait for enough bricks to come in.
We have also had to design the best way to build the garden in order that the walls are not too thick and the gardener can reach all parts of the bed. The current plan is to make it 1 to 1.5m wide and 3 m long. It is vitally important that bricks are well made and if we get bricks that are not full then we either need to redo them or use for other projects. We have over 200 bricks that we cannot use in their current state. This slows the whole process down.
Unfortunately, in order to make either the wall or the room we will need hundreds of bricks so unless we get a lot more people making ecobricks it is unlikely that we will be able to build them soon. A 1.4 m high wall takes 60 bricks per meter and we are close to finalising the design so we will try and build the wall in a modular fashion 1m at a time and gradually replace the fence. We are also making her the little stools from smaller bottles as well as flat sit-upons made out of old magazines.
We have a high demand for the benches and it is also important to remember that Ethembelethu creche is not our only recipient for ecobricks – we are working with Endangered Wildlife Trust to build some benches at their ecoschools in Hammanskraal. We have also been asked to build a bench at Lodirile secondary school close to Kagiso where we run a scout troop.
Generally, we do try to distribute the bricks across all our projects. If anyone would be interested in donating either money or bags of building mix (R40 each x 10) or chickenwire for us to use that would help. These are expenses that we otherwise have to cover.  If you are able to assist in this way – contact Alison Bentley dralisonbentley (at) gmail.com
Bench at Zandspruit: